Un ami travaillant dans l'environnement m'a transmis cette info récemment. Choc.
On dit souvent que l'océan devient une poubelle, mais avec parfois l'idée que l'immensité pourrait compenser les déchets que l'on rejette. Idée fausse.
L'océan Pacifique concentre 2 plaques de déchets plastiques, dont l'une à l'ouest des Etats-Unis, d'une taille supérieure à deux fois le Texas. Elle pourrait doubler en taille dans 10 ans selon certains experts. Et elle vient à peine d'être découverte par un skipper qui voulait prendre un raccourci et s'est retrouvé pendant 7 jours durant dans des paysages d'ordures, à perte de vue.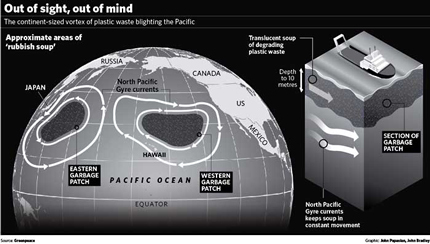 Courtesy of Greenpeace.
On trouve encore peu d'images de ces plaques de déchets. Voici une vidéo qui peut vous donner un aperçu... lugubre.
Comment remédier à cette catastrophe ? Son ampleur est tellement importante que la tâche semble hors de portée. Sauf peut-être pour une organisation internationale. L'ONU va-t-il se saisir du sujet ?
Plus d'infos sur le site de The Independant.